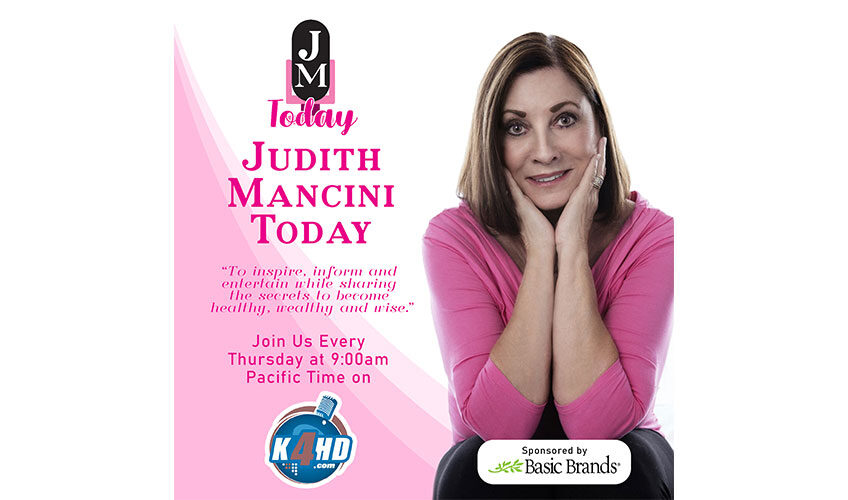 "To inspire, inform, and entertain while sharing the secrets to become healthy, wealthy, and wise."
Judith Mancini Today is sponsored by Basic Brands Inc. providing the highest quality specialty products in the natural food industry.
Visit basicbrandsinc.com for your introductory order and receive 15% discount including on their best selling product Vit E ointment which helps to reduce the appearance of fine lines, wrinkling and sunspots as well as restoring moisture and elasticity to your skin. Enter code JMT15 for your discount.
Judith Mancini Today – Thursdays at 9am pacific – Sponsored by basicbrandsinc.com – enter code JMT15 for your gift of 15% discount on your first order.
Judith Mancini Today is broadcast live Tuesdays at 5PM PT.
Judith Mancini Today TV Show is viewed on Talk 4 TV (www.talk4tv.com).
Judith Mancini Today Radio Show is broadcast on K4HD Radio – Hollywood Talk Radio (www.k4hd.com) part of Talk 4 Radio (www.talk4radio.com) on the Talk 4 Media Network (www.talk4media.com).
Judith Mancini Today Podcast is also available on Talk 4 Media (www.talk4media.com), Talk 4 Podcasting (www.talk4podcasting.com), iHeartRadio, Amazon Music, Pandora, Spotify, Audible, and over 100 other podcast outlets.