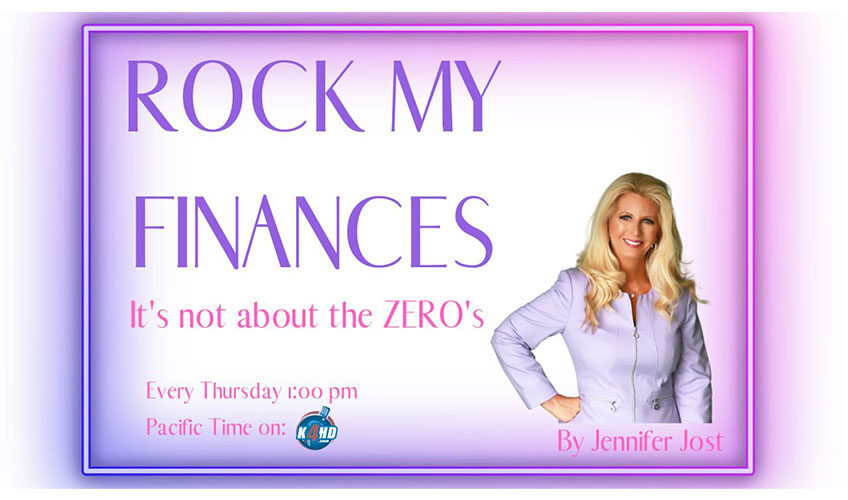 RMF is REAL AUTHENTIC talk about lifestyle and money, feelings about money, how to attract it, grow it, protect it and spend it!
RMF (Rock My Finances) is hosted by Jennifer L. Jost – Author/Int'l Speaker/Certified Money Coach/Certified Divorce Financial Analyst/Private Wealth Advisor.
Financial Freedom the Feminine Way! This is NOT your parent's finances nor the Good Ole Boys Club! Courage Up, Skill up, Show up and Level up your lifestyle today.
Jennifer Jost and her guests will share how they Rock Their Finances in this modern world of money. Live every Thursday at 1PM PST. For More Information about host: MeetJenniferJost.com
Rock My Finances is broadcast live Thursdays at 1PM PT.
Rock My Finances TV Show is viewed on Talk 4 TV (www.talk4tv.com).
Rock My Finances Radio Show is broadcast on K4HD Radio – Hollywood Talk Radio (www.k4hd.com) part of Talk 4 Radio (www.talk4radio.com) on the Talk 4 Media Network (www.talk4media.com).
Rock My Finances Podcast is also available on Talk 4 Media (www.talk4media.com), Talk 4 Podcasting (www.talk4podcasting.com), iHeartRadio, Amazon Music, Pandora, Spotify, Audible, and over 100 other podcast outlets.
Connect With Rock My Finances: