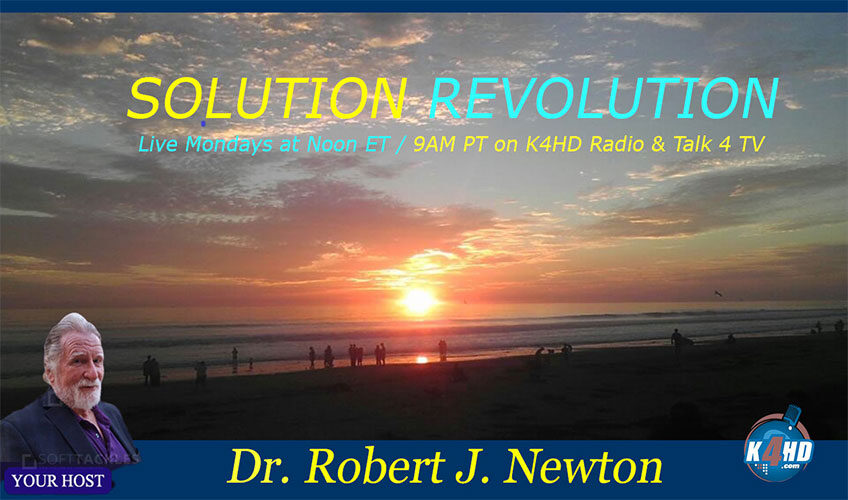 SOLUTION REVOLUTION hosted by Dr. Robert J. Newton
An international best-selling author on Amazon and ten-year blog talk radio veteran, Dr. Newton will cover any & all topics from the realms of government, economics, agriculture, sustainable living, religion, spirituality, natural healing, science and mathematics. He will tackle injustices and false narratives, uncovering such and providing solutions thereto, using his vast knowledge culled from deep states of meditation, psychic insights from the Akashic Records, the 72 Names of God, from the Torah, knowledge from Indian Sanskrit texts of the Vedas, Upanishads, and the Bhagavad Gita. He will also use the linguistic arithmetic of Gematria to gain insights into arcane subjects.
Solution Revolution is broadcast live Mondays at 9AM PT.
Solution Revolution is viewed on Talk 4 TV (www.talk4tv.com).
Solution Revolution is broadcast on K4HD Radio – Hollywood Talk Radio (www.k4hd.com) part of Talk 4 Radio (www.talk4radio.com) on the Talk 4 Media Network (www.talk4media.com).
Solution Revolution is also available on Talk 4 Podcasting (www.talk4podcasting.com), iHeartRadio, Amazon Music, Pandora, Spotify, Audible, and over 100 other podcast outlets.
Connect With Solution Revolution: